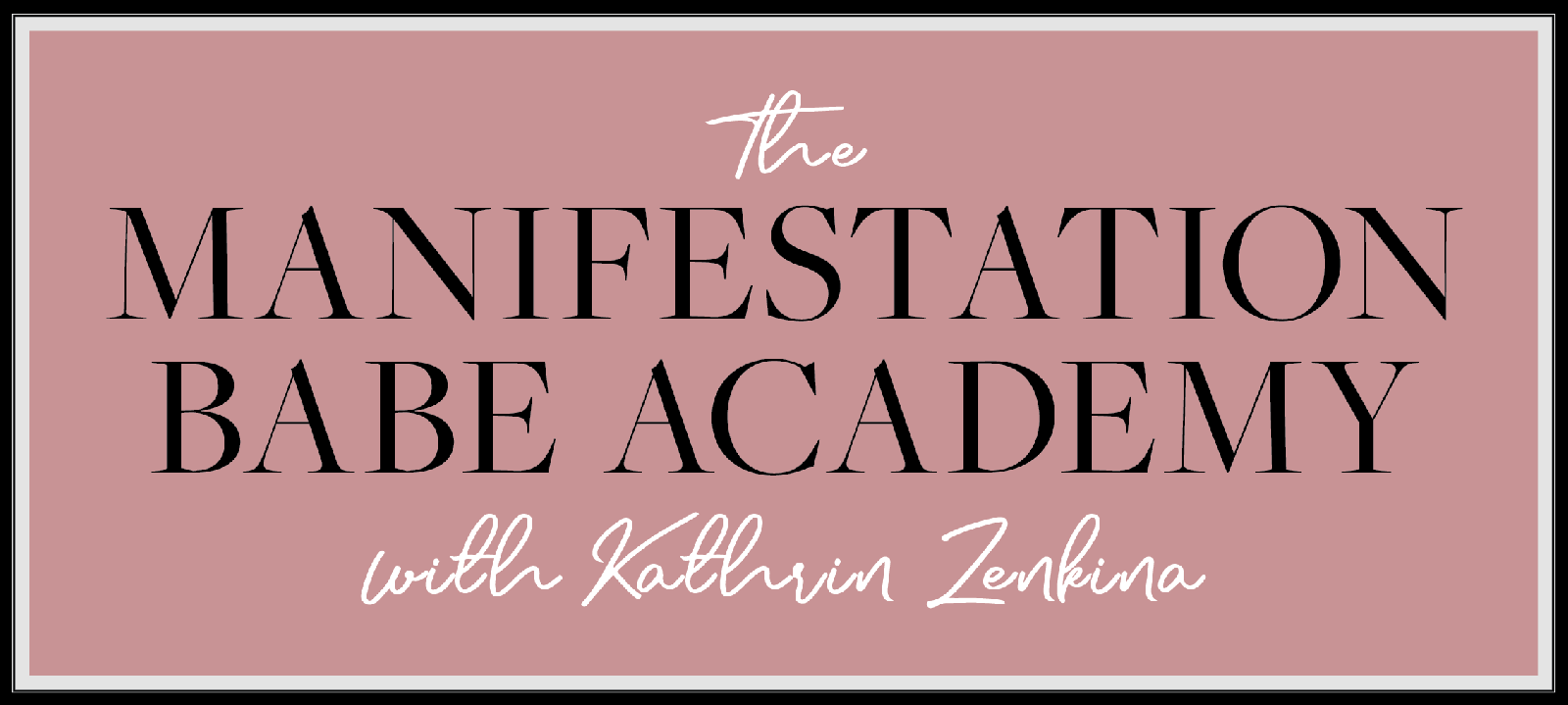 Are you feeling stuck in inaction? Overwhelmed by fear? Frustrated by the lack of results showing up in your life?
Looking for clarity in your life? Sick of wondering if "you're doing it right?"
Giving up on the complex manifestation theories that other Law of Attraction gurus are throwing at you?
Need someone to make things simple? To show you the way? To prove to you that, YES, you can do it too?
Feeling burnt out from working hard and chasing your dreams with nothing to show for it?
Tired of re-living the same year over and over again?
Looking for the "hidden" strategies that all successful manifestors know, but for some reason you don't?
Ready to bust through the plateau and become a ridiculously successful manifestor?
Your soul is screaming for a
simple, easy-to-digest, metaphysical
crash course in Manifestation...
and your intuition led you here.
Get your MBA in manifesting so that you can finally feel what it's like to experience inevitable success with zero limitations.
Just a few years ago, I found myself drowning in fear.
I was living on my grandma's couch wondering when would be the moment when I would finally GET IT. When the switch would flip and I'd finally get my "big break."
I was $25,000 in debt, working a $15 an hour job as a receptionist, and embarrassed that this is what my "big move" to Los Angeles looked like.
By this point, I had almost a decade's worth of knowledge on Manifestation and the Law of Attraction.
8 years of reading every single book, watching every single video, and listening to every single podcast. You name a guru, I've read all their work.
Yet looking at my life from the outside? You'd think I was completely unaware.
I "KNEW" it, but I didn't "DO" it! And I'm certain that maybe you can relate to this as well.
I was so afraid of what COULD happen if I gave it 100%, that I ended up feeling even more stuck.
I didn't know how to APPLY this knowledge. Fear was planted in my driver's seat, and I couldn't kick it out of the car. Until one day, I just snapped.
If you're on this page right now, it means you're CRAVING results. You're hungry for WAY more than you're currently experiencing, and this ravenous appetite is just not getting satisfied right now.
You're ready to experience massive success in your life, and deep down, you've always known that you were MADE for more.
But let me know if you can relate to this:
Your life may have become stagnant. You feel uncertain about what you're "supposed" to be doing with your life. You don't even know if you're doing it "right" and that thought alone is zapping you of your confidence. Your relationships might be losing their passion, and you're becoming more and more discouraged by your career or business.
If you're like all the other dreamers out there, you've been watching the successful manifestors live out glamorous lives of freedom, luxury, and fun on the internet. You've been stalking them on Instagram, on YouTube, and wondering, what makes THEM so special? And why am I still here, not getting any further ahead?
They all say they manifested their lives to be this way… and that if they could do it, so could you, but for some reason, it's not clicking for YOU.
And even though you are trying to make things happen… nothing is actually shifting in your physical reality.
And yet still, you have this inner knowing that even though things aren't quite 100% amazing right now, one day they WILL be.
There's a whisper–a tiny little voice–urging you to trust yourself. To have faith. To seek out the answers. To take action.
And now you've been led to this very page.
You're looking for that missing key that you haven't found just yet. You're wondering if there's some secret knowledge that "successful people" just AREN'T sharing with others. You're realizing that there must be something that you just don't know.
I don't know about you, but I certainly felt this way.
So, what really changed for me? How did I become a self-made millionaire? How did I become a master manifestor?
What was the switch that flipped that took me from making $1500 a month, unable to afford Los Angeles rent, to traveling the world full-time with the love of my life, earning over 6 figures every month?
I demystified manifestation. I made it easy to understand, and most importantly, easy to IMPLEMENT. SO EASY, that others started to refer to me as an EXPERT for my ability to take complex metaphysical subjects and bring them back to the modern day world– the 21st century.
You see, humans like to make everything harder than it needs to be. We have been conditioned via thousands of generations to believe that success is a struggle, that the art of manifestation is complex, and that our fate is handed to us and there's nothing we can do to change it.
We have been conditioned to believe that we have no control over our dreams… that MAYBE we will get lucky, and if we aren't graced with luck, we just unfortunately have to work even harder and put in more hours to make things "happen."
Girlfriend, it DOES NOT have to be that way.
Manifesting is really easy. Creating the life of your wildest dreams is so much simpler than you think.
Lose the complexity and come learn how it can be done in a much better way.
Very soon you WILL get the hidden blueprint that you've been looking for.
If I could do it, it means that you can too. And yes, I know you're rolling your eyes right now, but unlike other self-proclaimed "Gurus"….. I truly mean it.
I'm just your average girl who decided to step up and go for it. I'm a previously shy, introverted girl who went from not believing in herself, to fully stepping into her role as a powerful manifestor of ANYTHING she desired.
AND NOW IT'S YOUR TIME TO EXPERIENCE THIS MAGIC.
Everything you've ever wanted is on the other side of Manifestation Babe Academy
ABOUT THE PROGRAM
& WHY YOU NEED IT
Manifestation Babe Academy is a 4-week program taught exclusively by Kathrin Zenkina, #1 Best-Selling Author, Host of the globally recognized Top 20 podcast, Manifestation Babe, and manifestation coach to thousands of women. MBA is intentionally curated to give you the best of the best when it comes to the Law of Attraction, manifestation principles and success strategies.
Most importantly, MBA is uniquely results-driven.
Rather than throwing a ton of meaningless material at you, Kathrin teaches you ONLY what you need to know to implement ASAP. It's simple, easy-to-digest, and taught using modern-day language. This is the only program that you will ever need when it comes to manifesting your dream life.

Each module of the program is pre-recorded and is accessed via a student-only portal every single week for 4 weeks. Each week there are bonus Q&A calls that are done live-stream style in a closed Facebook group once per week with Kathrin. This is where you'll be able to get all your juicy manifestation questions answered as they arise throughout the program. The recordings are then sent out to members of the program via email. Lifetime access to every module is given to members at the end of the 4 weeks, along with all of the bonuses that are revealed on this page.
HERE'S THE BLUEPRINT TO MANIFESTING YOUR DREAM LIFE:
Module 1
The Foundational Phase
In Module One, we will build the foundation of manifestation and dive into concepts like:
What is the Law of Attraction and how does it work?
What is the subconscious mind and how does it impact manifestation?
Creating a compelling and clear vision for all areas of your life
Get crystal clear on exactly what you want
Most common misconceptions around manifestation (like, no, it's not JUST about positive thinking & focusing on what you want)
How to implement manifestation quickly, easily, and as fast as TODAY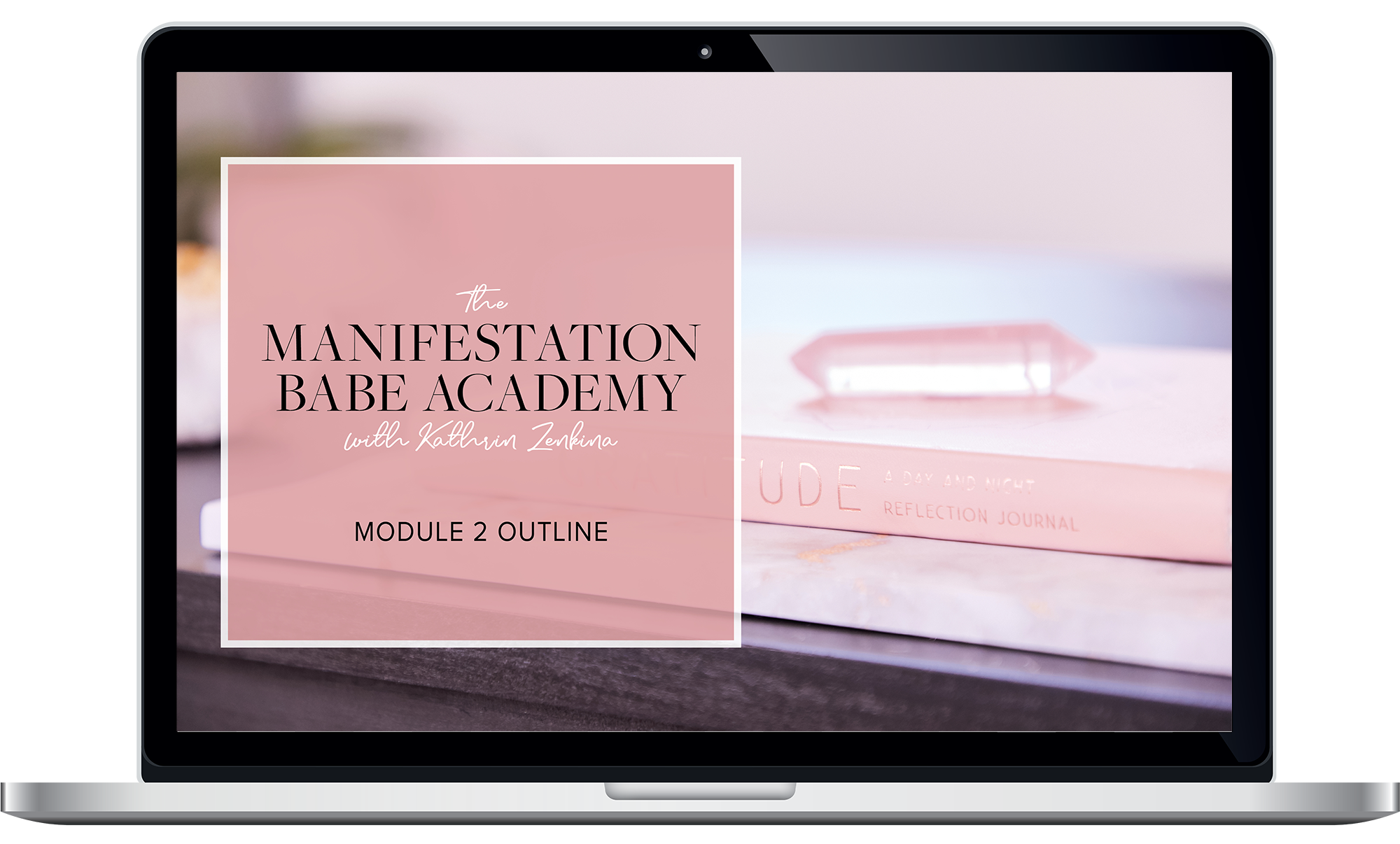 Module 2
The Release Phase
In this module, I will share with you the ONLY thing that's holding you back from manifesting a reality wilder than your wildest dreams. Yes, there is only one thing, and yes, it affects all of us the same way. This module is all about CREATING SPACE for all of your desires to effortlessly flow in. In Module Two, I will also be diving into:
How your past impacts manifestation and how to finally LET GO and forgive old wounds
The power of identity and how it shapes your reality every step of the way
How to quickly shift yourself from a low-vibe state to a high-vibe one
How to completely eliminate the limiting beliefs that are sabotaging your dreams… for good!
How to successfully reprogram your subconscious mind so that it can work FOR you
Create customized affirmations & mantras for success
Module 3
The Quantum Phase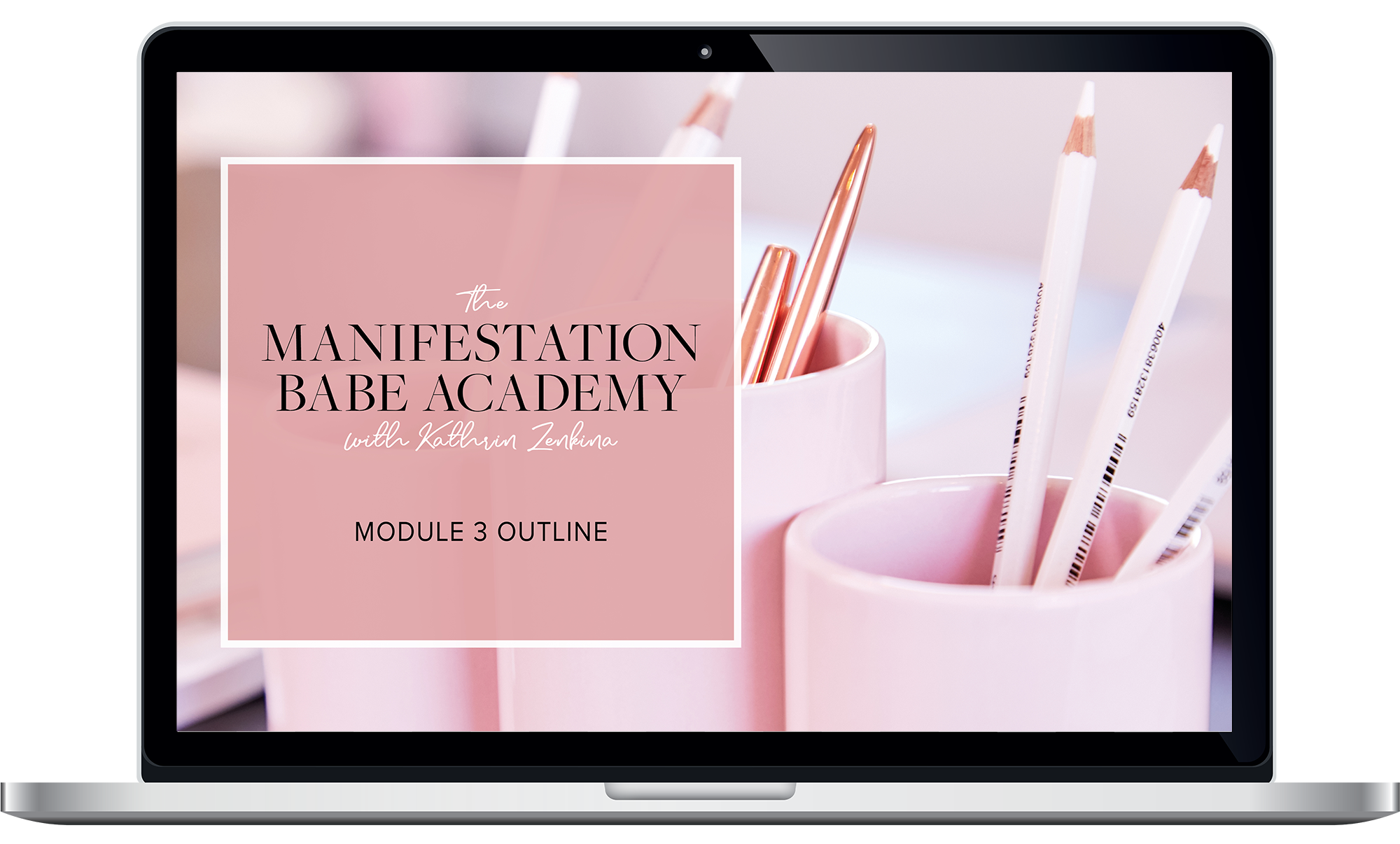 In Module Three, we'll be breaking down Manifestation in DETAIL and learn how to dive into QUANTUM manifesting. This is where we will go BEYOND the Law of Attraction. In this module we'll also be covering topics like:
My SIGNATURE 3-Step Manifesting Process that's never failed my clients
Quantum manifesting and how to have your desires RIGHT NOW
Exactly how to surrender and let go so that you become resistance-free to your desires
Go from a place of NEEDINESS, to a place of ALLOWING your manifestations to unfold
Release negative energy from your body, mind & spirit
Why negative thinking can actually be beneficial to the process
Most effective manifestation rituals that speed up the process
How to create a vision board that actually works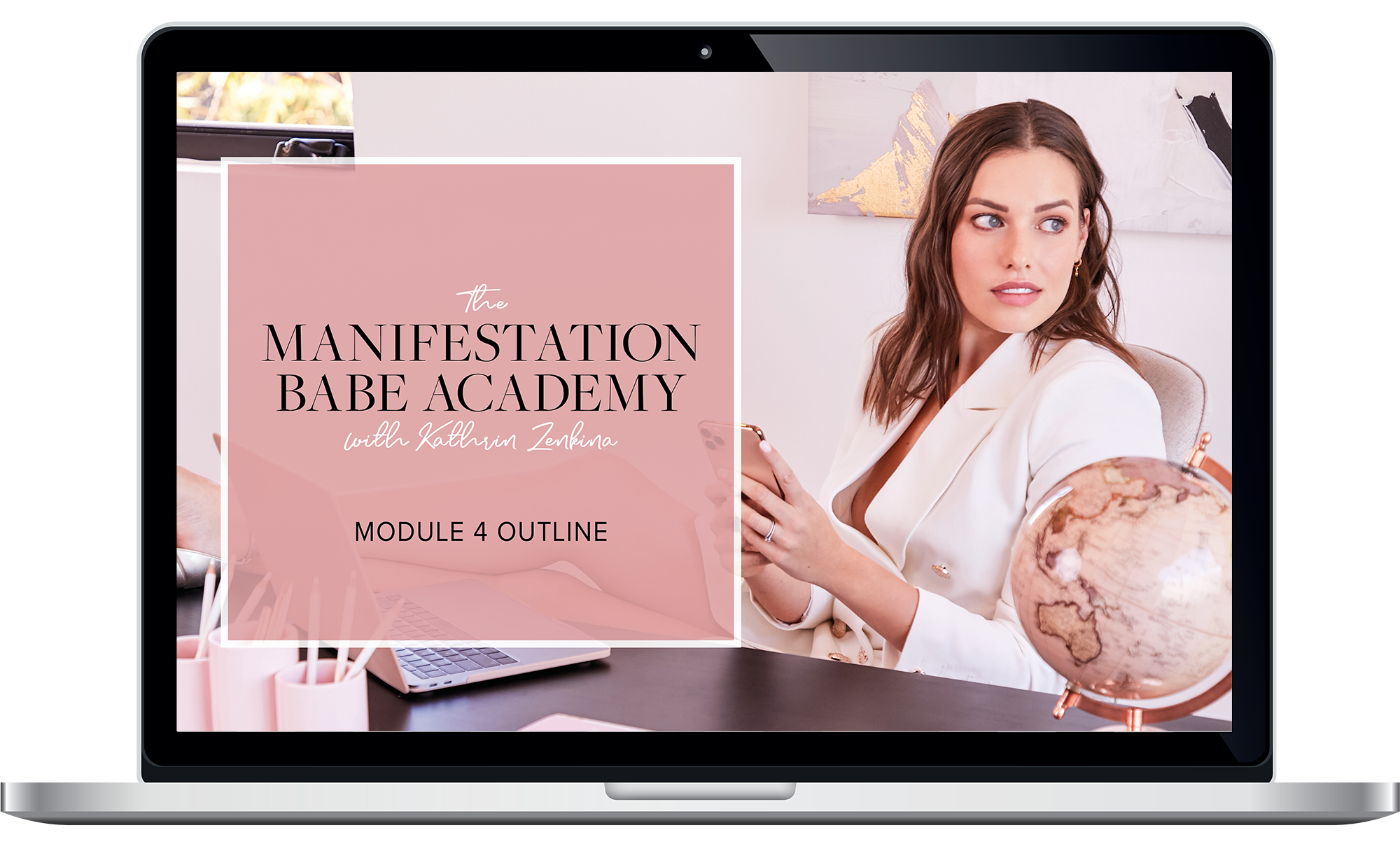 Module 4
The Mastery Phase
In Module Four, we will be covering more advanced manifestation topics like:
How your past impacts manifestation and how to finally LET GO and forgive old wounds
The power of identity and how it shapes your reality every step of the way
How to quickly shift yourself from a low-vibe state to a high-vibe one
How to completely eliminate the limiting beliefs that are sabotaging your dreams… for good!
How to successfully reprogram your subconscious mind so that it can work FOR you
Create customized affirmations & mantras for success
Daily practices to keep your vibration elevated through ANYTHING
11 additional laws no one talks about that impact manifestation—what are they and how to become a master manifestor using them
How to handle a less than ideal environment and how to create positive friendships, relationships & physical environments.
Dealing with people who "just don't get it."
Orgasmic manifesting –> yep, I've NEVER shared this before outside of MBA and it is JUICY stuff
How feminine and masculine energy impacts manifestation
How to handle "oh shit" moments & what it means when you manifest what you DON'T want
Kathrin's entire personal resource library to keep the journey going beyond the program
Bonus Module - How To Get Your Partner
On Board With Manifestation & Get The Support You Need
The first bonus for MBA is an exclusive module on the topic of how to get your PARTNER on board with Manifestation. Struggling with an unsupportive spouse, friend, or family member? Brennan (my Husband) and I got you! We will share with you our journey & a breakdown of how to go from feeling alone to feeling fully supported in your journey. You won't want to miss this exclusive bonus offered nowhere else!
Tapping Into Massive Wealth
Ever wanted to develop a powerful money mindset that creates abundance for you? Now you can! You will also get my "Tapping into Massive Wealth" program designed to help you release resistance around your top 7 most limiting beliefs around money, wealth and abundance. As a certified EFT (Emotional Freedom Technique) practitioner, I will show you one of THE BEST ways to remove energetic disturbances from the body when it comes to resistance around finances (and quite honestly, any other area of your life)! This is the technique that saves me every single time I feel stuck in fear, anxiety and inaction.
Bonus Masterclass -
"Anxiety Is My Gift"
How To Create Massive Success In Spite Of Anxiety
As someone who has personally struggled with anxiety for most of my life, I KNOW how crippling it can be. Over the last couple of years of my personal growth journey, I've been able to reduce my anxiety by over 90% and completely stop the debilitating attacks that I would inevitably feel when overcoming a challenge. I've noticed so many other women in the Manifestation Babe community struggle with anxiety too, so I've made it my mission to provide this resource in this program to help you realize that YES… even though it sounds kinda funny to you right now… anxiety can be your biggest and greatest GIFT. This 60-minute masterclass will show you exactly how + provide you with the tools you need to massively reduce anxiety AND be successful in spite of it. If I've been able to create a million dollar empire using anxiety as my superpower, SO CAN YOU. You're going to love this bonus exclusive to the Manifestation Babe Academy!
One of the biggest blocks that holds most people back from manifesting is holding on to their past for dear life. Most people get stuck in trying to understand, unwind, and review their past, but what they don't realize is the only way to truly let go and move forward, is by practicing forgiveness. In this 60-minute masterclass I breakdown how to harness one of the most powerful healing tools on the planet—forgiveness. If you want to move forward & live life from your highest potential, you must master this art and that's exactly what you'll learn in this bonus masterclass.
"Manifest While You Sleep" Subliminal Audio Downloads

Listen to these THREE subliminal audios (two while you drift off to sleep & one while you go about your day) to speed up your manifesting process! These audios in conjunction with everything you're about to learn inside MBA are going to create one hell of a year for you!
31 Simple And Effective Manifestation Rituals That Actually Work Guide Book
Ever wanted to learn manifestation rituals that were simple and ACTUALLY worked?! This is the OFFICIAL "recipe book" for my most effective manifestation rituals that are simple, easy to implement, done in under 5 minutes, and actually work!
VIP Coaching Option Available (Limited to 10 people!)
Wanna get coached by Kathrin? For the first time ever, you can become a part of the MBA VIP Coaching group to work alongside Kathrin and get laser-focused coaching on the very topics we discuss inside of MBA. Must submit an application to be considered.
"I Got My MBA In Manifesting" Affirmation Mug
If you choose the pay-in-full option, you will receive the "I Got My MBA In Manifesting" Affirmation mug in your mailbox during the program as an additional bonus! Because drinking coffee in a mug that affirms your success is so 2021!
Hear What The Graduates
Are Saying About MBA
I signed up for MBA because I've been on and off with this positive mindset and manifestation journey. I wanted to be more consistent. I felt a nudge from the Universe to do the course and it's the best thing ever. You go back to the basics and learn from Kathrin's point of view. Kathrin explains more 'confusing' concepts in such a relateable way. I love the hypnosis video—since I've listened to it every day my anxiety has disappeared (believe me I tried so much to get rid of it). I feel so happy, positive thoughts come to me easily—before I had to put in a lot of effort to be positive.
I love how Kathrin describes concepts. The analogies stick in my head too. This is a programme that I definitley will be repeating. I love the fact that you get lifetime access to it as well so it's a great value for money. It might be a lot of money for some but it's worth it because you are investing in YOURSELF. This is knowledge that I will carry with me for the rest of my life. I will inspire my family future children with it.
Thank you Kathrin!
I have been manifesting "on accident" my entire life - always visualizing what I wanted, and making detailed lists and slowly having them appear into my life. So manifesting was nothing new for me. However, I knew there was so much more I had left to learn, and so much growth possible. That is where Kathrin and the Manifestation Babe Academy came in and changed my life.
This course taught me how to manifest exactly what I wanted in a timely manner. It taught me how to rid the limiting beliefs that have been slowly building up in my subconscious. And most importantly...it taught me forgiveness, and how to forgive PROPERLY. This upleveled my manifesting skills more than I could ever imagine.
I'm only 21 years old, and I have manifested every single thing I have in my life right now. I created my ENTIRE reality. Even my significant other, who I live with, has seen my progression with manifesting. That I've been bringing everything I want into my life, and quickly. And now he has been learning and practicing manifesting & grattitude. We listen to Kathrin's podcast on every road trip now. And now we both talk about manifesting and our dreams every single night before we fall asleep. It's an amazing spiral of positive energy, happiness, and a beautiful, abundant life.
I was hesitant originally to invest in MBA because I thought it was just going to be another course just like all the others. I actually signed up for just the bonus call on how to get your partner on board. I'm so glad because every module was mind blowing. Since the very first module I started getting my very first clients. I got asked by a major media outlet to feature me and all of the sudden my family are really supportive and I was able to quit my job.
MBA is NOT like other courses. Kathrin teaches in a way that anyone can understand. Plus she is the ONLY coach I've invested in that inclueds meditation and hypnosis so it's nearly impossible to not get results. I think MBA is worth way more than Kathrin is charging for it!
g. I love the fact that you get lifetime access to it as well so it's a great value for money. It might be a lot of money for some but it's worth it because you are investing in YOURSELF. This is knowledge that I will carry with me for the rest of my life. I will inspire my family future children with it.
Thank you Kathrin!
I took the leap to take Manifestation Babe Academy because while I have had a wonderful, adventure-filled and professionally satisfying life, I felt I had hit a wall, no longer wanted to do what I have been doing career-wise, and wanted to shift my story in ways that would enable me to create a life that allowed me to be grateful of what I have, but push it to the next level. Basically I needed an inspired kick in the ass! Kathrin is no bullshit, which is great, because that's how I am. Her teaching is straight-forward, clear, and not cutesy. I feel confident in what she taught me.
Since completing MBA and RBA I've manifested a Range Rover Sport, a lovingly release of a co-dependent relationship to shift to a harmonious divorce and co-parent situation, a beautiful new home for my daughter and me, but most importantly a positive mindset and happy outlook. Thank you, Kathrin and Manifestation Babe team.
I discovered Manifestation Babe last July since completing RBA in August & MBA in December of 2018, I've confronted limiting beliefs around money and manifested a very large sum of money in a most unexpected way! This encouraged me to then tackle beliefs around intimacy and partnership, and while I've not yet come across the partner I seek, I've been enjoying the dating game more than before as I see it as an opportunity to learn, to grow and to give. I've also come across to self-realisation in terms of being an artist and a BMX rider. But, as mentioned above, the most important aspect is an overall feeling super high vibe. inspired, connected, confident, and always striving to come from a place of love - for myself and for others. Thank you so much Kathrin, MB team and MB community! I'm so thrilled at all the new friendships I've created here!
A BIG win aligned with my money manifestation. Since I enrolled into this program, I've already paid off all my credit card debt—a total of $10,000 and for the FIRST TIME in 10 years, I brought all of my credit card accounts to ZERO. Anything is possible! What really stood out for me in Kathrin Zenkina teaching during the challenge and masterclass is she said "it doesn't have to be hard" OMG, I've been in a state of shame, guilt and self-blame for years and couldn't get rid of my credit card because I'd spend everything right away as if out of fear that there won't be more later and keep spending while avoiding to even look at my credit card statements. Now when I paid odd my credit cards, for the first EVER I actually know exactly where I am financially. It's liberating, it's like a miracle, Can't wait for more money manifestation!
Ladies!! I cannot believe I get to share this with you. Yesterday the love of my life asked me to marry him!
Last month I dropped all the "rules" I had around us getting engaged aka "I need to be making this much money in my business, I need to have quit my day job" etc (fear) And just decided to enjoy life and know that everything is happening in divine timing and the this happens. It's been on my vision board and now I have even more on there that's come true!
P.S. I manifested him just over 2 years ago and he will forever be my favorite manifestation!
Hey everyone!! This stuff works! I just wanted to share a win for me. I wasn't going to share on social media but after listening to week 3 I decided I'm no longer dimming my light and am ready to manifest my dream reality. I manifested mine and my husband's dream vehicle this past weekend. I've always wanted a Range Rover Sport and he wanted a Porsche 911 turbo. A little back story on me, we started plumbing company several years ago and it does well. Prior to this course, I had a hard time with feeling worth of success because I didn't do the actual plumbing and felt like I was living my husband's dream reality. But I've let go of so many self-limiting beliefs and am seeing miracles daily. Thanks for listening.
Letting go of the how (how I manifested a baby in 2018)
I was in the first round of MBA wit Kathrin Zenkina in June and one of the things I wanted to manifest was the adoption of our fourth child. I have always wanted four children but had some serious limiting beliefs about my body's ability to do it after 3 weeks hospital bed rest for me and 3 week NICU stay for my third daughter. I felt selfish for wanting to do it again. I didn't believe my body could carry full term. But my heart wanted a fourth baby. So I started to talk about adoption and got excited that this could be my answer. I became so sure it would happen, that I would become a mom of four this was, that I started to picture it as already done.
I was going to be a mom of 4
And as I grew deeper in this belief and vision of a family of 6, I started to let go of the HOW.
Who is Kathrin Zenkina
& how can she help me?
I'm so excited to share a course that's been on my heart for the last two years. I've been passionate about teaching women like you how to program themselves for success and create ANY kind of life that they want. I created MBA to be much more than just your average program. It breeds transformation on a physical, mental, emotional & spiritual level. I've made it my mission to show you what's possible for your life inside MBA. It's time to take manifestation from concept…to WAY OF LIFE.
Manifestation Babe Academy is the culmination of EVERYTHING that has helped me and the women I have coached to manifest our deepest desires and fulfilling lives that we live today. If you are looking to manifest more money, your dream business, your soulmate, your best health, and anything in between–you'll find that all inside of MBA.
I'm a mindset coach, a manifesting expert, a best-selling author, a Neuro-Linguistic Programming (NLP) Master Practitioner, and the creator of the exploding personal development brand– Manifestation Babe.
Today, Manifestation Babe, LLC serves over 250,000+ women collectively and I have faith that I can help you transform your life too.
If you will trust me, put a little faith in the process, and a whole lot of faith in yourself… your life will never be the same again.
Manifestation Babe Academy is one of those programs your future self will be thanking you for lifetimes to come.
I have certainty that will be the case because of the certainty that I have in my methods and their ability to change the course of your life forever.
Your time to manifest a reality wilder than your wildest dreams is RIGHT NOW.
#1 What happens after I hit the sign up button for MBA?
As soon as you sign up for MBA, you will get a welcome email inviting you to the private MBA ONLY students Facebook group. You will also receive a schedule of all the calls including the exclusive Q&A sessions.
Every single call is recorded so if your time zone does not allow you to be on a live call, or you're unable to make a call, you will still get all the same content. Students often find that even when their question doesn't get answered due to missing a Q&A call, someone else either has asked the question, or they end up getting the answer via community support from the Facebook group.
Please note that if you choose the Manifestation Babe payment plan option, you'll first get an email asking you to agree to our terms and conditions BEFORE you receive the welcome email. The sooner you complete this step, the sooner you'll be able to start manifesting your best life!
#2 What do I get in the program?
You will get access to four 60-90 minute modules that each come with a weekly workbook. The workbooks contain transformational homework that is done outside of sessions and guaranteed to take your knowledge to the next level. THIS is where you learn to take the invisible and make it visible. The workbooks are yours for life.
You will also have access to four 60 minute Q&A livestream sessions where you can ask Kathrin any question you have pertaining to the program. These are typically done mid-week after students have had a few days to get through the module.
As a bonus, you will get access to a private MBA student only Facebook group where you can mastermind with the other members, get the support you need, have additional questions answered, and receive important updates about bonuses only available to students. You will also be partnered up with an accountability buddy which we have found to be a beautiful synergy between getting added support and creating a new high-vibe friendship.
Everything shared with you over the 4 weeks has LIFETIME access, so you can keep coming back to the content over and over again as needed. Should anything be added or changed in the future, you'll have access to the new content as well.
#3 I'm super busy. What if I don't have time to go through the round right now?
No worries! We all get busy from time to time. This is why each module and call is recorded so that no matter what your schedule looks like, you can learn on your own time. This course can either be experienced in a live setting or self-paced. Even if you don't start the course until the round is over, that's completely fine.
#4 How long do I have access to the modules for?
The course comes with lifetime access.
#5 Are there payment plans available?
Yes! There are three different options available. Currently we offer a Pay-in-Full option and two payment plan options: 6 payments of $166.50 or 12 payments of $83.25. We have waived finance charges on payment plans.
#6 What if I don't own my own business? Is Manifestation Babe Academy still right for me?
Yes! If you have a dream of creating a life you LOVE (regardless of your career choice) MBA was made for you! The beautiful thing about MBA is it attracts people from all walks of life– corporate women, stay-at-home moms, high-level executives, teachers, fitness instructors, business owners, and even actresses! You name it, MBA has helped them. The material is designed to get you clear on what you WANT and start living your dream life, instead of fantasizing over it. You don't need to own a business to join, but who knows, after doing the work inside MBA, you might discover a passion in a side hustle & create something that lights your soul on fire! (this has happened to many of our students!)
Due to the nature of this course, there are typically no refunds available. However, if you find that after accessing Module One that you do not like the course or don't feel like it's a great fit for you, we offer a full refund ONLY until April 10th by 11:59pm PST. Keep in mind that by requesting a refund, we REQUIRE that you send us an email to hello@manifestationbabe.com with your COMPLETED Module One homework for proof that you at least committed to making the course work for you. We reserve the right to refuse your refund if you do not show us that you accessed and completed Module One. Under no circumstances are refunds offered after the cut-off date and time of April 10th at 11:59pm PST. After that date, you are responsible for making all of your payments on time and in full.
#8 Can you guarantee results?
If you do the work, commit yourself 100%, and follow the processes step-by-step, you will experience more success than you've ever before thought possible. But because I can't guarantee that you'll do the work, I can't guarantee that you'll get results. This is a program where it's your responsibility to play full-out at 100% and take initiative in your own success, which is great news because if you are the one in charge of your success, then YOU get to choose how far you want to go.
#9 How does this course differ from the 6-week Rich Babe Academy?
Rich Babe Academy is Kathrin's signature 6-week course on reclaiming your relationship with money and unlocking financial abundance for life. Rich Babe is focused on your relationship with money, healing and forgiving your financial past, and getting into the energy of massive abundance to attract more money into your life.
Manifestation Babe Academy is focused on the broader picture of your entire reality, destroying the beliefs holding you back, overcoming self-sabotage, reprogramming your subconscious mind for success, making manifestation super easy, overcoming anxiety, fears, and negative self-talk & dealing with people who don't get it.
Kathrin has ensured that both courses are significantly different from one another to stand on their own, but beautifully complement each other at the same time. If you're a previous Rich Babe Academy graduate, you will still highly benefit from MBA.
Get A Decades Worth Of Actionable Manifestation Strategies
In Just 30 Days
*Without Getting Overwhelmed*
Yes, You Really Can Have It ALL.
Someone who's excited for change and ready to do whatever it takes
Eager to learn and apply new knowledge
Not afraid to admit that you want MORE out of life
Ready to drop your bullshit story about why you CAN'T... and rediscover why you CAN
Understand tough love and thrive with a mentor who can push you over the edge of transformation
Committed to completing every single assignment you're given
Someone who sees this course as an INVESTMENT in your future
Someone who has an "I already know that" mindset
Stuck in story mode about why you CAN'T be successful
Unwilling to take 100% responsibility for your reality
Looking for a quick fix to your problems
Someone who sees this course as an "expense"
Looking for someone to do the work for you
Looking for therapy, rather than coaching
If you made it this far down this page, it's probably because you're considering enrolling into the Manifestation Babe Academy.
You might be asking yourself how things will be different this time… worried you might invest in "another one of those programs" and not see results.
I know we don't know each other yet, but I can promise you this: There is nothing I leave out of the Manifestation Babe Academy when it comes to absolutely transforming your reality as you know it.
This isn't one of those programs where I'm going to offer you an upsell to the "next level" or leave out some "expert secrets" that you're not ready for, and can find in the "graduate program."
I'm laying it all out for you. I'm making it easy on you. Manifestation Babe Academy is where your long journey of seeing very little bang for your buck ends.
I know it's a big commitment, and you might be feeling a little scared right now…
But let me ask you this: If fear hasn't yet given you the results that you are looking for… why not try something new?
Why not play a game for the next 30 days, and proceed as if your success is inevitable?
That the entire Universe is conspiring in your favor? That your intuition, your soul, your inner guidance led you to this program for a reason… and that it never leads you astray?

If you're afraid of trying something new… you may never experience the success you deserve.
It's a harsh reality, but it's true.
Only when you take a risk… bet on yourself.. try something new… does the Universe show up for you in a really big way.
I'll be here to guide you. You will get the best freaking Manifestation program you've ever experienced in your entire life.
But you must show up for yourself first, and push that SIGN UP button to see the effects
Come witness what happens when you decide to fully GO FOR IT and take action on what you deserve MOST in life.
AND THE MAGIC DOESN'T STOP THERE...
ENROLL in MBA & Get EXCLUSIVE Bonuses!
"How To Get Your Partner On Board with Manifestation" Module ($997 value)
"Tapping into Massive Wealth" EFT program ($1597 value)
"Anxiety is My Gift: How To Create Massive Success in Spite of Anxiety" Masterclass ($399 value)
Forgiveness Masterclass ($399 value)
"I Got My MBA In Manifesting" Branded Mug ($29 value)
Exclusive Meditation ($299 value)
Exclusive Hypnosis ($299 value)
Subliminal Audios ($199 value)
31 Simple & Effective Manifestation Rituals Guidebook ($399 value)
But that's NOT what your investment in the program is.
Manifestation Babe Academy is only $999 and you can get started for as little as $83.25 today.

Hear why others rave about
Manifestation Babe Academy: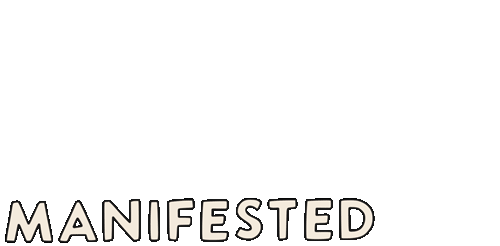 Manifestation Babe Academy is OFFICALLY CLOSED
SIGN UP FOR FUTURE MB UPDATES